Dumpster Sizes in Seattle, WA
Most people who rent dumpsters in Seattle aren't aware of this, but the majority of what you pay for your container is heavily influenced by how large it is (how many cubic yards of waste it can hold). Makes sense, doesn't it? A large 40 yards roll off dumpster is always going to be more expensive than a "tiny" ten yarder, regardless of how different delivery distances are between the two situations. That being said, it's pretty obvious why this is a subject we put a lot of focus on. As soon as we start talking you'll notice that your customer care rep actually cares about making sure you get to enjoy your ideal Seattle dumpster rental. The happier you are about the price you get, the more likely you are to work with us again in the future. It's a win-win situation.
Alright, So What Exactly Can You Offer In Terms Of Seattle Dumpster Rental Sizes?
We've pretty much never ran into a situation where a client would call us and we didn't have a suitable container ready for rent. We are well accustomed to what kind of problems people in this part of Washington have with regards to disposing of unwanted materials and we're confident that we'll find the right container for you under the right time and budget constraints.
In any case, if you'd like to get a glimpse of the kind of waste carriers we offer, please check out the following list:
Dumpster Dimensions For Rental in Seattle And Its Surroundings
10 Yards Dumpster Rentals
Dumpster Specifications: 9'L x 7'W x 5'H
Best used for:
reasonably sized renovation projects
small even trash removal
large landscaping jobs
retail store / office location trash management
30 Yards Construction Dumpsters:
Dumpster Specifications: 22'L x 8'W x 6'H
Best used for:
roofing or siding projects
building or tearing down large structures such as a garage or small store
40 Cubic Yards Dumpsters
Dumpster Specifications: 22'L x 7'W x 7'H
Best used for:
large construction, renovation or demolition sites
semi-permanent trash removal solutions
big outdoor events
A Few Tips To Help You Make The Most Out Of Your Dumpster Rental Solution
Make sure to throw in the lighter items first.
This one might sound a bit counter-intuitive, but if you do it right it will be a real space saver. The idea is that if the lighter, more fragile items are at the bottom of the dumpster they will be compacted by the heavier ones you'll throw in later.
Symmetrical objects have priority.
A lot of space will be saved if you can stack items such as boxes, furniture, bricks that are still stuck together, etc.
Use bags.
Most people underestimate this one because they want to throw everything into the dumpster as quickly as possible without thinking about whether or not organizing a bit can have an impact on their waste removal efforts. You see, by packing loose items into bags they will occupy less space and you can get away with renting a smaller container, therefore spending less money! Don't forget that you can instantly get access to a massive source of information on this subject just by calling our number. As an alternative, you can easily send us an e-mail by using
our contact page
. And while you're finding out more about renting dumpsters in Seattle you can also get a free quote and shoot two birds with one stone!
Call (800) 847-9949
To get a quote for dumpster rentals in Seattle, WA, fill out the form below: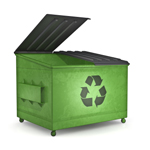 Cities Where We Service Often:
DRS Dumpsters
505 Broadway E
Seattle, WA 98102
(800) 847-9949